The month of June is dedicated to The Sacred Heart of Jesus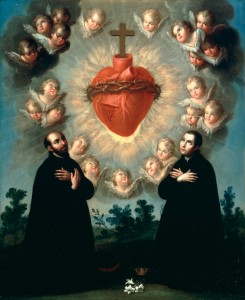 More information and related prayers can be found at Monthly Devotions.
Increase devotion to the Sacred Heart with the items available at the Sisters' Shop: DaughtersofMaryPress.com.
Devotion to the Sacred Heart – This booklet discusses the treasures found in the Heart of Jesus and explains how to cultivate a true devotion to It especially by making reparation for the ingratitude that this loving Heart receives. ~ Order/Preview here.
The Adorable Heart of Jesus- This book recounts the history of the devotion to the Sacred Heart, including the establishment of this great feast. It is filled with inspiring reflections about the Heart of Our Blessed Savior. Preview/Order here.
Conference: Devotion to the Sacred Heart (Audio) – In this conference Mother Mary Bosco explains the object and purpose of this devotion: making reparation for sin and returning love to Our Lord for His great benefits. She also gives helpful suggestions for cultivating this devotion. Preview/Order here.